Sports Massage for Health and Healing
ATP provides innovative bodywork and massage geared toward the needs of today's elite, professional, or serious amateur athlete. We are conversant with the needs of runners, cyclists, triathletes, bodybuilders, and athletes of all sports.
ATP can help you get over that nagging injury and prevent major injuries. We see all types of injuries, such as plantar fasciitis, turf toe, carpal tunnel, frozen shoulder (rotator cuff injuries), knee pain, lower back, upper back, neck pain, TMJ, restless leg, and just about any pain in the body.
Come see us before you opt for surgery.
30-Minute Sports Massage
Please choose which therapist and/or location you prefer to see availability and rates:
1-Hour Sports Massage
Please choose which therapist and/or location you prefer to see availability and rates:
90-Minute Sports Massage
Please choose which therapist and/or location you prefer to see availability and rates:
Continuing Education Courses
Muscle Manipulation for Athletes
Learn how to manipulate muscles for the Athlete and release muscles to get the full range of motion. Distinguish between and atrophied muscle, an overused muscle, and a healthy muscle. Learn how to feel the muscle, see it in 3D, and get to the specific muscle. Learn how to release the origin and insertion of the muscles. Also includes best practices to strengthen and "activate" muscles. Learn proper body mechanics that will prolong your practice.
$99 per person, 5 student minimum, 6hr credit
$60 per hr 1-on-1 training, 1hr credit
For more information or to register for course, click here to email Ron.
ATP Certified program
The ATP program teaches massage for athletes. Exercise and athletic competition is a lifestyle. Athletes want to improve and stay at the top of their game, but injuries and pain can prevent goals and achievements.
The ATP certified program will teach a multi-disciplinary approach in working with the muscles, fascia, joint mobility and range of motion. Students will enter a new paradigm, viewing the body in terms of muscle mobility, overuse, atrophy and identifying scar tissue. ATP will teach the importance of addressing muscles at the origins and insertions.
Our methods are highly influenced by the approach that physical therapists and chiropractors take in working with the human body. The ATP approach helps you save energy, work smarter and yet produce quick results. Working with clients while clothed is a huge benefit for therapy; it saves time and allows convenience for versatility to treat just about anywhere.
In addition, the course will teach you how to "fish" and build your clientele. Learn business practices that will separate you from the crowd and boost the demand for your services. Learn how to promote yourself, set up shop, get involved in sporting events and races and work with pro athletes.
Athletic Tune-up Professionals will produce…
The Best Sports Massage Therapist in Austin
The Best Sports Massage Therapist in Texas
The Best Sports Massage Therapist in the United States
The Best Sports Massage Therapist in the World
After you're certified, you will be eligible to rent space in the ATP Body Shop.
Program Fees:
$80 per hr
$2000 for 30hrs
For more information or to register for course, click here to email Ron.
Meet our Massage Therapists
Ron Vaughn, BESS, LMT, LMI, CEP
Owner, Personal Trainer, and Athletic Tune-Up Professional
Sports Massage Therapist for the last 20 years.  Owner of Athletic Tune-up Professionals. Ron has a Bachelor's degree in Exercise & Sports Science from Southwest Texas State University San Marcos and a graduate from Austin Schools of Massage Therapy.
Ron's all time favorite sport is football and he's a dedicated Dallas Cowboys fan. He is an athlete that enjoys and will try any sport. Traveling, dancing, music, joking and cutting up are just some of the things he does.
Ron got into massage while attending college. He was able to combined his exercise & sports science and massage therapy knowledge to create a unique way of sports massage and personal training.
Ron has worked with all Athletes from all different sports such as the NFL, MLB, NBA, WWE, IFBB, WBFF, AFL, MLS  world's strongest man, world's fastest woman on bike, pro cyclists, rugby, tennis, frisbee, crossfitters, triathletes, ironman as well as collegiate swimmers and track & field. Most important the weekend warriors.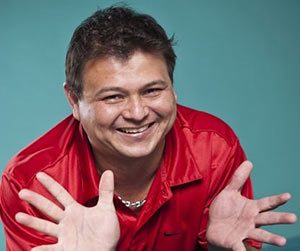 Jennifer Perla,  LMT
Athletic Tune-Up Professional
In 2006, I moved to Austin from Houston to attend the University of Texas for engineering – Hook 'em! My journey with massage therapy started back in 2013, when I had my first real sports massage from Ron Vaughn. After that experience, I understood the restorative benefits and improvements that massage could provide to the body. Ron's innate knowledge and understanding of the body and its movements is what inspired me to become a massage therapist myself.
After completing the course work at Lauterstein-Conway Massage School, I became a licensed massage therapist (LMT) in February 2019. Since then I've been shadowing Ron and improving my skills as a sports massage therapist. My goal is to provide improved performance, injury recovery and prevention to active individuals through the healing powers of massage.